About Andy Cline the Artist
Andy Cline Artist Statement
In my paintings, sculptural objects, installations, and non-art art projects, I take a confluence of visual elements, geometric, flat organic, painterly, and a kind of fantasy abstraction, combining those motifs with broad ideas about consciousness, society, nature, and technology. I organize them in a way that creates visual spaces that tell stories relating to our collective psychic life.
In painting, size constraints are determined by my environment. I make initial marks intuitively and randomly, which for me, means picking a starting point spontaneously from my own library of approaches. I usually start works like this, even if I have sketched out a concept prior to starting the work. I begin responding to what's there in a balance of discovery and intentionality.
I develop artworks from a place of abstraction and from my subconscious, sometimes capturing imagery from meditation or dreams. The elements that exist in my subconscious often surface through abstraction, bringing about forms hiding within a place of feigned unintentionally.
Decisions about how far to solidify figures, embellish atmospheres, separate figure and ground into distinct parts are usually the ones that determine when a work is almost resolved and what subcategory of my work it falls into. The end result is a body of work that is diverse, like an ecosystem comprised of biological and synthetic impulses.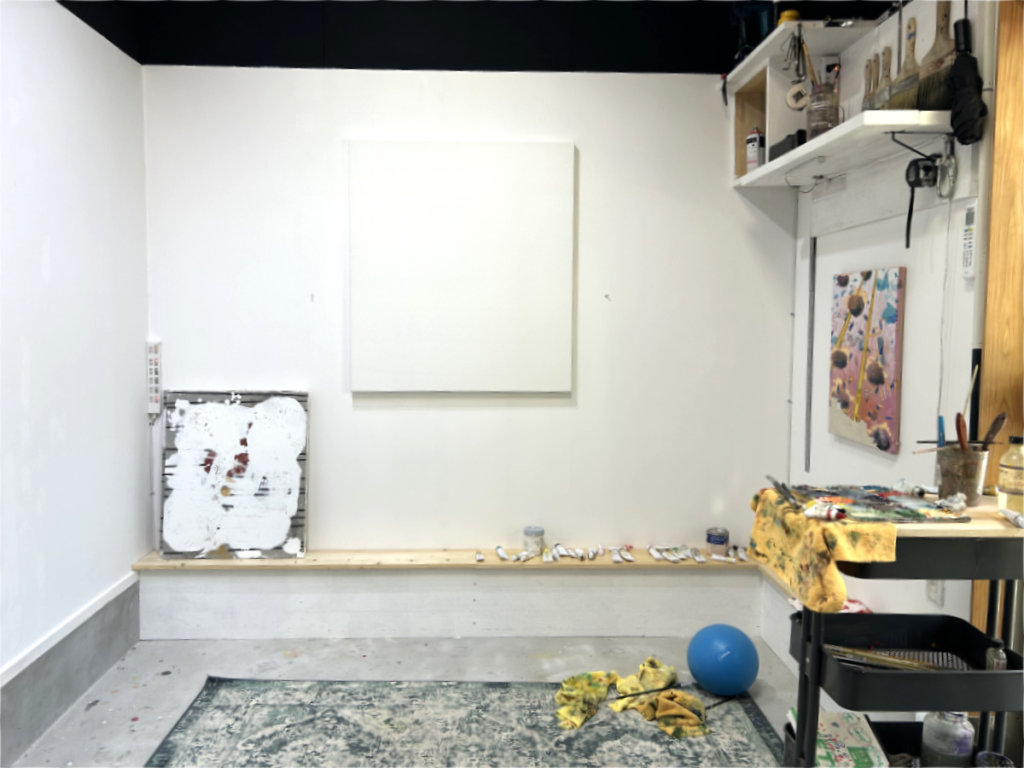 Artist's Bio
Andy Cline is a commercial and fine artist with over two decades of experience. He maintains studios in various locations across the U.S. while exhibiting in group and solo shows. Andy has also worked independently as a preparator in galleries and museums on both coasts, including Blum & Poe, John Berggruen Gallery, Ace Gallery, Karen Lovegrove, and Marc Foxx, to name a few.
In pursuit of alternative means of supporting his studio practice, and with an interest in art installation, Andy found his way onto the sound stage working in TV and film as an Art Director and other art department roles and as an assistant for artists and designers like Geoff McFetridge.
In 2012, Andy relocated to Japan where he has been soaking up the culture and complexity of life in the Tokyo Metro area for the last decade. He first exhibited in Japan in the city of Nagoya in 2011, and since then has been creating work in a much different environment than the community of artists he knew back in the U.S.
Swept away with another job designing windows for fashion companies, Andy's studio practice was neglected for a number of years. However, he always continued to paint and now produces small and medium-sized works in oil, acrylic, and other media.
Andy holds an MFA from Western Carolina University and has exhibited in North Carolina, South Carolina, Berkeley, and Los Angeles, California, Nagoya, and Yokohama, Japan. His work has been collected privately by international collectors