Firing Up the Paint Palette: Paint Exercises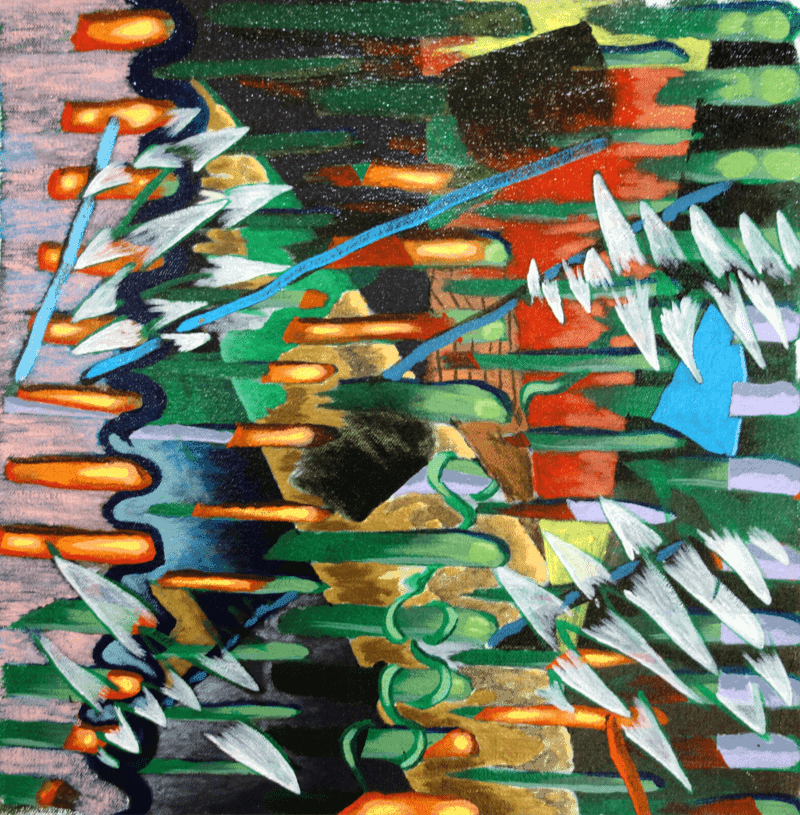 Fortunately, I have an over-supply of canvas to fire up the paint palette with.
Shape, color, line.  Those are the essentials of a composition.  I have these small canvasses, or sometimes I like to use a heavy Rives BFK, that I work on freely.  I start them without a goal which probably comes from the influence of modern art.
I want to share these loose, personal paintings here, as well as any other experiments and more committed works because for a lot of artists, we like to make the magic happen in secret and then present the finished product with a bow on it.  It doesn't always work out that way though, so this blog project is to give you a picture of how paintings can rise and fall and shift and form.
This little piece on a scrap of loose canvas is called Coarse Interference Patterns.   Coarse because it is composed of a lot of paint-brush-shaped shapes, crude like that.  Interference, because the directions of these shapes and lines are dissonant and disrepectful of one another.  Patterns, because all is pattern at a certain scale.
I don't know how long this little piece will go on.
This one is painted with remnants of my old acrylic paint collection, most of it from Los Angeles.  I have a few remaining containers of the following that are featured here:
A dwindling assortment of Nova Color paint direct from Blackwelder Street in Culver City
A half of a shoebox full of Ronan paints from McLogans, 2010 S Main St Los Angeles, CA
A test investment in some Brera acrylics, an Italian brand. I think I bought them at Sekaido in Shinjuku, Tokyo.
Art is creative for the sake of realization, not for amusement… for transfiguration, not for the sake of play. Max Beckmann
Check back for fresh versions of this painting!
Facebook
Pinterest
Tumblr
Google+
Twitter